Welcome to our shop
PHR-803T- Driver Kits
We still have some PHR-803T- Driver Kit units.
The Kit includes:
1 x Pickup Driver V3.3 PCB
1 x Toshiba Optical Pickup PHR803-T
1 x PCB (high-quality)
1 x Flat ribbon cable 0.5pitch x 45pins x 200mm
1 x FPC Connector 0.5pitch x 45pins top
1 x Set of electronic components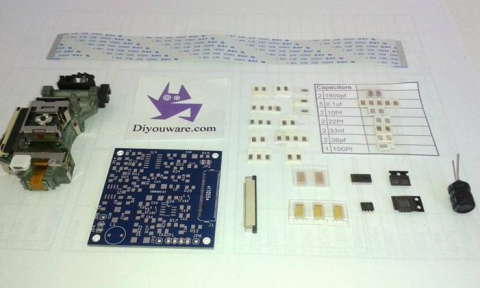 You just need to add an Arduino, some wires and a power supply to play with it. You will find the firmware and instruction to build it on the Build it section.
Price is 100€  90€ each + shipping.
If you are interested, please contact us at info@diyouware.com
Disclaimer: This is not a business. We use the money collected selling the kits to buy materials for our research and development of open hardware/software.
Payment Method
We only accept Paypal mail request.

The payment process is very easy. After you had ordered the kit, we will order a Payment Request to Paypal and they will send you and email with instructions to pay.

This method does not have extra commissions or charges and you even can pay with credit card (or a Paypal account).
Shipping Costs
By default the shipping method is International Priority Mail with tracking number. We will send you the tracking number as soon as the goods will be shipped to you.
The shipping costs depend on the destination country, number of kits, and the total weight of the parcel. Usually 5-15€ for one unit to EU/USA.
If you are interested in buying the kit, please send us your postal address and we will estimate shipping cost.
Thanks for support our project!!
Diyouware.team